ADULT PROGRAM
The Combat Style
The Ultimate Korean Traditional combat & Self-Defense Technique.
This technique emphasizes speed, physical strength and strong mental power.
It is designed to allow you to defend yourself in dangerous situations.
With continuous practice you will attain peace of mind and build your self confidence, resulting in the ability to build your own combat style!

Martial art is depicted as an eternal triangle in which Body, Mind and Spirit are interrelated. The concept of the eternal triangle is used to design classes that will simultaneously develop all aspects of the total person.

Our instruction is designed to provide you with the unique mental and physical coordination that Tang Soo Do demands. Also, you will find that our courses stress the development of individual character, integrity, and respect for others.

As a student, you will learn to use your hands and feet to simulate actual combat with an unarmed or even an armed opponent. With these skills, you will learn and harness a method of self-defense that has no equal in power or technique.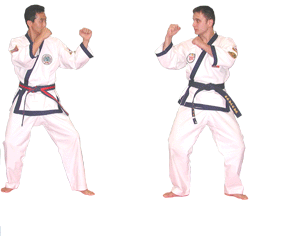 Happier Life by Balancing Mind and Body
Our training unifies development of mental concentration and emotional control. With special exercises such as meditation, breathing exercises, and imagery, students can better control their emotions and enable themselves to think positively and open their minds to others. Exercise can also help the body correct physiological illnesses such as certain cases of depression, mental stress and hypertension.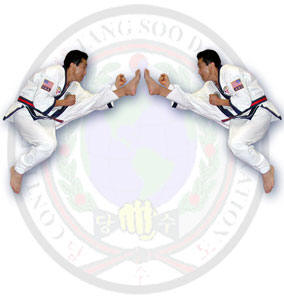 Physical Fitness
Getting into physical shape is not just a luxury, but a necessity for maintaining good health. While you are learning our techniques for self-defense, you will also be increasing flexibility, strength, and coordination. Our system includes aerobic exercise to benefit your cardiovascular system and also helps you loose excess weight. No experience or background is needed.
We will start you off slowly in our beginner's program and gradually get you in shape safely.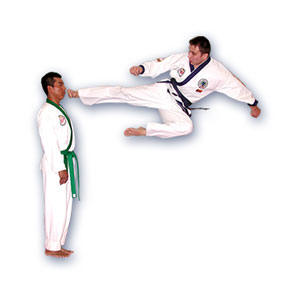 Builds Beautiful Posture
Learning these techniques will rebuild your body, giving you better balance, more agile and graceful movements, a healthier appearance, beautiful posture and a better complexion.

Mental Strength
Physical exercise is a method for the reduction of tension and stress. Our system emphasizes many different mental as well as physical attributes. Students are trained to incorporate mental concentration, self-discipline and respect for others, not only in their practice sessions but in all aspects of their lives.
Exploit your potential for ultimate success. Life's victory does not go to the one who is stronger or faster. It is obtained by those who believe in themselves.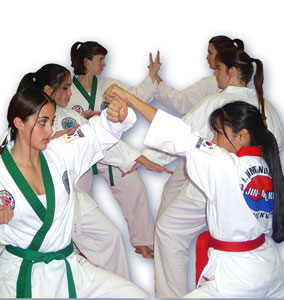 Self-defense, Weight Control
Syntheses of Tang Soo Do techniques are taught in a manner geared to the needs of both men and women. This is due to the distinctive nature of the style.
The benefits can last a lifetime. The variety of defense techniques is unequaled in any other form of martial arts. The various combinations of vigorous techniques strengthen and condition legs, chest, arms, buttocks, and stomach area.
While practicing these self-defense techniques, all muscle groups are worked so that fat is reduced and muscles are toned.
Class schedule, Adults/Teens: All Belt (13+)
Monday: 7:00 pm - 7:40 pm
Tuesday: 7:30 pm - 8:10 pm
Thursday: 7:30 pm - 8:10pm
Friday: 7:00 pm - 7:40 pm